SCROLL DOWN TO CHECK OUT OUR LIVE MUSIC & EVENTS CALENDAR
ORDER ONLINE
PICKUP or DELIVERY
Delivery in select Port Orange areas

Delivery available in select areas & subject to availability. Delivery fees, booking fees & minimum order requirement may apply. Prices may be higher. Promotional prices, coupons & Hidden Treasure's Loyalty Rewards Program not valid on delivery orders. See delivery partner website or app for details. HAPPY HOUR
is BETTER in FLIP FLOPS!
Mon – Fri :: 11:30am – 6:00pm




Sat & Sun :: 11:30am – 4:00pm



Half off Buffalo Chicken Dip or Smoked Fish Dip
$.50 CENT Boneless Wings
$2 Sriracha Deviled Crab
$2.50 Wells
$1.95 Landshark
$3.75 Captain Morgan
$12 domestic buckets
$18 import buckets
"MAKE IT A DOUBLE
DURING HAPPY HOUR!"
+ $2.50 Wells + $3.00 Calls + $5.00 Premiums
Stand Up Paddle Boards
Kayaks & Canoes
Pedal Boats

Mouse Jet Boats
Batmobile Boat
NEW! Sea Doo Tours
Disappearing Island, Ponce Inlet Lighthouse and more!
Rose Bay Water Sports
Port Orange
HOURS
Sun – Thu :: 11:30am – 10:00pm
Fri & Sat :: 11:30am – 11:00pm

PAWS MENU – $5 Each
8 oz Burger • 8 oz Chicken Breast • 8 oz Hot Dog
Welcome to Hidden Treasure Tiki Bar & Grill, located on beautiful Rose Bay in Port Orange, FL
Our chef serves up a flavorful variety of lunch and dinner options complemented by our specialty drink menu and unique ambiance. At Hidden Treasure Tiki Bar & Grill, every dish is created using only the freshest, finest ingredients. Our authentic Florida style menu and casual, water front atmosphere create a truly enjoyable experience. We also have a very unique, full liquor sports bar with multiple screens for your viewing pleasure. You will be able to see all of your favorite sports teams play every game.
Adding to your fun is Rose Bay Watersports where guests can rent paddle boards, kayaks, canoes, pedal boats and mouse jet boats!

NEW! Sea Doo Tours

Join us for what locals and tourists are saying is the newest and best Sea Doo Tour in Daytona Beach and surrounding areas.

VOTED BEST SHRIMP & GRITS BEST BURGERS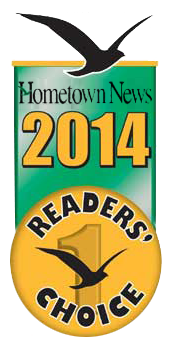 VOTED BEST DINING ROOM VIEWS, BEST SEAFOOD SELECTION
BEST LIVE ENTERTAINMENT, BEST HAPPY HOUR
My Favorite Memory
Went to Daytona in July and this was by far my favorite memory. Great food and entertainment.
Can't wait to go back. Wish we had one of these in my home town. 
—Lorrie & Randy Russell