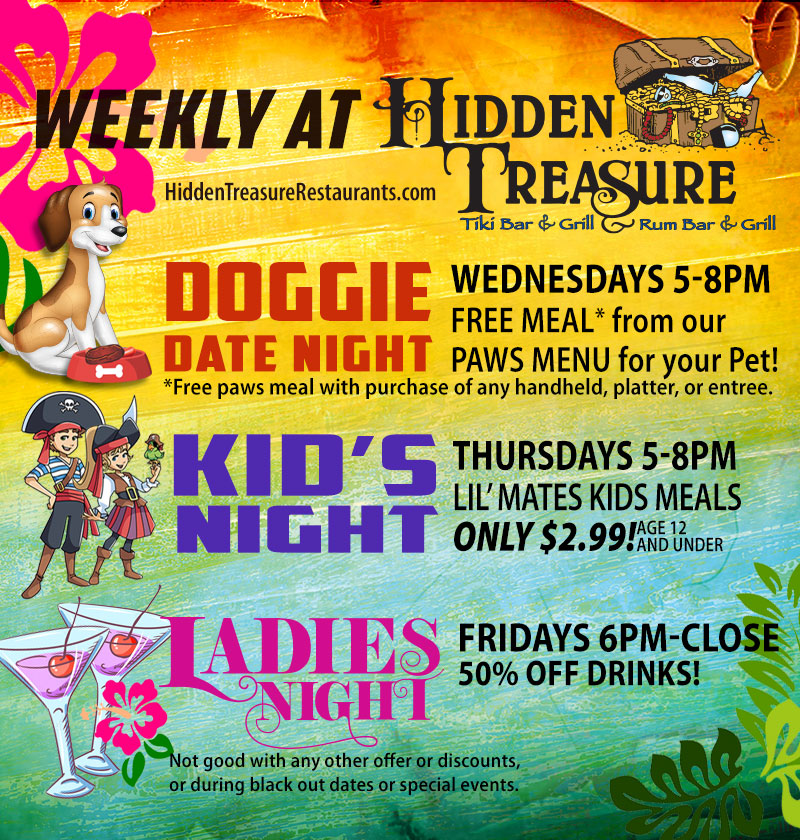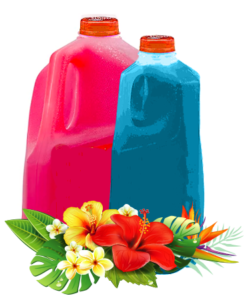 HT'S SPECIALTY DRINKS Ready to Go!
1/2 GALLON $29.99
FULL GALLON $59.99

HIDDEN TREASURE – Coconut Rum, Melon Liqueur, pineapple juice and grenadine.
ARRGH-A-RITA (not frozen) – Gold Tequila, Triple Sec, sweet & sour, garnished with a lime.
Choose from strawberry, mango or raspberry.
PIRATE PUNCH – Raspberry Rum, pineapple juice, cranberry juice, sweet & sour with a Black Rum floater.
TROPICAL BOOTY – Mango Rum, Citrus Rum, strawberry puree and pineapple juice.
PIRATES BLUE MOJITO – Lemon Rum, Blue Curaçao, fresh mint, lime juice and club soda.
LIGHTHOUSE LEMONADE – Raspberry Rum, Raspberry Liqueur, sweet & sour and lemon-lime soda.
ROSE BAY SMASH – Light & Coconut Rums with pineapple & orange juices.
Welcome to Hidden Treasure Restaurants and Rosebay Watersports
Our 2 unique waterfront restaurants are located amid ancient oaks and palm trees on beautiful Rose Bay in Port Orange and next to the historic lighthouse in Ponce Inlet.
We offer our guests a creative menu featuring fresh seafood and award-winning burgers served in a relaxed, casual atmosphere that makes for a truly enjoyable dining experience. Live music is a popular feature at both of our locations (see the MUSIC SCHEDULE for dates and times). Guests look forward to their favorite Happy Hour specials 7 days a week at our Rose Bay restaurant. 
Hidden Treasure on Rose Bay in Port Orange is home to ROSEBAY WATERSPORTS – the hottest spot for fun on the water in the Daytona Beach area! Enjoy stand up paddle boards – SUPs, mouse boats, kayaks, pedal boats, fishing skiff boat rentals and more.

Book Your Sea Doo Adventure Online Now!

Join us for what people are saying is the best Sea Doo experience in Daytona Beach and Volusia County.
 Discover one of our Hidden Treasures today!