Sea Doo Tours at Rose Bay Water Sports
Sea Doo Tours of Disappearing Island, the mangroves and local channels are a great way to explore the local waterways. Rosebay and Ponce Inlet are home to beautiful scenery. The view is fine from the shore, but you can't beat it from out on the water. Adventure on a Sea Doo where your feet can't take you. The possibilities are endless.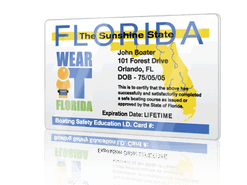 Born on or after January 1, 1988?
By law in the State of Florida, anyone born on or after January 1, 1988, who operates a vessel powered by 10 horsepower or more must pass an approved boater safety course and have in his/her possession photographic identification and a boating safety education identification card issued by the FWC or a Florida boater education temporary certificate issued by an online course or authorized vendor.
Please take this course for $9.99, pass it and print out your temporary certificate. You MUST have this certificate with you when renting our motorized vessels.